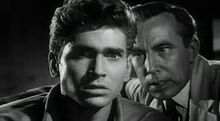 In Gene Fowler Jr.'s 1957 "I was a Teenage Werewolf", protagonist Tony Rivers is portrayed as an evil being that is ostracized from the community that he so viciously attacks. I think Tony is the true victim of "I was a Teenage Werewolf", as he, unlike his victims, will be remembered infamy. Tony combatted the internal and external evils that all of us face, especially as teenagers, and unfortunately succumbs to those forces.
Internally
From the beginning of "I was a Teenage Werewolf", Tony is presented to the viewer as an individual with a preexisting internal conflict. Constantly blowing up on people [1] and getting into fights. I think this is common and human nature to experience when coming of age, yet it is clearly demonstrated by the police officer in the opening scene that Tony is in fact the menace to society. Instead of trying to reach into what may possible be the cause of Tony's anger, society just alienates him by telling him he needs to see a medical professional. [2] This article from Harvard University indicates the commonality of adolescent anger and its potential causes.
Tony may simple be feeling an urge to demonstrate the capability and independence of a young man. He has internals urges to show strength that all viewers have felt, and Dr. Brandon, along with society, capitalize and alienate Tony because of his internal struggle which will ultimately lead to his demise.
Externally
Society is predisposed to dislike Tony has exemplified when meeting Arlene's parents. Arlene's parents [3] question Arlene as to why she is not dating the son of a man with a more notable profession. They have judged Tony for the profession and family situation, which he has no control over. This predisposed discontent and judgement coming externally, can only aggravate Tony's internal conflict and further alienate him.
Even worse, when Tony actively tries to seek the help he has been told he needs, a medical professional betrays his trust. [4] this article clearly outlines US law as to what is appropriate between a medical professional and patient in terms of consent. Tony is clearly harmed by the persuasive desires of Dr. Brandon.
Conclusion
Tony was predisposed to fail. Already burdened with natural feelings of inadequacies and conflict caused by coming of age, Tony also faces external forces that judge him and hope for him to fail. Tony is no more mature than the children of traditional werewolf tales. Just as Little Red Riding Hood was tricked by the wolf in "Little Red Riding Hood" and the multiple girls were tricked by their father in "The Werewolf's Daughter", Tony's naivety and insecurity allows him to become a victim of a perverse society. The only differentiator is that in "I was a Teenage Werewolf", the Werewolf is the actual victim.
Sources:
I was a Teenage Werewolf. Dir. Gene Fowler. Perf. Michael Landon. I was a Teenage Werewolf. Youtube, n.d. Web. 1957.
Perrault, Charles. Little Red Riding Hood. Classic Comic Store Ltd, 2016. Print.
Sabine Baring-Gould, The Book of Werewolves: Being an Account of a Terrible Superstition (London: Smith, Elder, and Company, 1865). The Werewolf's Daughter.
Ad blocker interference detected!
Wikia is a free-to-use site that makes money from advertising. We have a modified experience for viewers using ad blockers

Wikia is not accessible if you've made further modifications. Remove the custom ad blocker rule(s) and the page will load as expected.