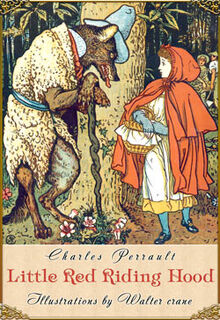 In a village, there lived the prettiest country girl known as Little Red Riding Hood. Little Red Riding Hood's mother was making cakes one day and told her to take some cakes and a pot of butter to her grandmother because she had heard that she was sick. On her way to her grandmother's village, Little Red Riding Hood went through the woods and coincided with a wolf.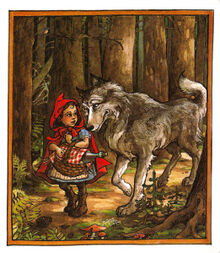 Naturally, the wolf wanted to eat her, but there were some woodcutters nearby and did not want to take that risk of being caught. Oblivious to the wolf's intentions, told the wolf that she was on her way to see her grandmother. The wolf then got more information on where the grandmother lived and took off to her home. When the wolf arrived, he pretended to be Little Red Riding Hood. The grandmother believed it was Little Red Riding Hood so she told him how to get in and ultimately the wolf ate her. Afterwards, he laid in the grandmother's bed and waited for Little Red Riding Hood to arrive. Upon her arrival, the wolf pretended to be the grandmother and told her to get in bed with him. Little Red Riding Hood took off her clothes, got into the bed and noticed very odd features of her "grandmother." After questioning "her" arms, legs, ears, and eyes, she finally mentioned how big "her" teeth were to which the wolf responded, "All the better to eat you up with." In the end, the wolf also ate Little Red Riding Hood.[3]
↑ Andrew Lang, The Blue Fairy Book, 5th edition (London: Longmans, Green, and Company, 1891), pp. 51-53. Lang's source: Charles Perrault, Histoires ou contes du temps passé, avec des moralités: Contes da ma mère l'Oye (Paris, 1697).
Ad blocker interference detected!
Wikia is a free-to-use site that makes money from advertising. We have a modified experience for viewers using ad blockers

Wikia is not accessible if you've made further modifications. Remove the custom ad blocker rule(s) and the page will load as expected.