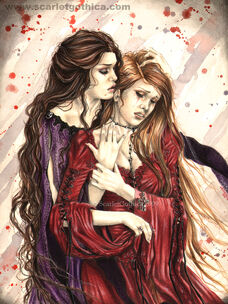 The vampire story Carmilla written by Sheridan Le Fanu is widely known for its homosexual characteristics that are found within the two main characters Laura and Carmilla. Laura is a young girl who has lived behind the walls of her father's castle all her life hidden from the world. She is depicted as this sweet very innocent girl who longs for a friend's company. Shortly after a carriage accident that coincidentally occurs right outside that castles walls, Laura's wishes come true. Here we are introduced to Carmilla. Immediately Laura as well as her father are astonished by how godly and majestic she appears. It doesn't take long for Laura to develop romantic feelings for this Carmilla character. Initially, we want to assume that Le Fanu's intention is to portray a homosexual relationship between these two characters. However, as stated in Holly Furneaux's article on Victorian sexualities, "From the 1880s sexologists such as Richard von Kraft-Ebing and Havelock Ellis pioneered a science in which sexual preferences were analysed and categorised; they created terms including homosexuality, heterosexuality and nymphomaniac. Significantly, this began a new opposition of homo- and heterosexuality, categories which did not simply denote sexual behaviour but were perceived as central to each individual's identity."
Knowing this, Carmilla was published over ten years before the term homosexuality came to light in 1872. What I take away from this is that Le Fanu's purpose for Carmilla was not to shed light on same sex relations but rather to introduce one's own sexual feelings that arise in our youth. At a certain age, we begin to become curious about sexuality and all the aspects that come with it (physical make-up, how you think about yourself, and how you feel about others and the society you live in). Carmilla's character being a vampire, who are already seen as seductive creatures, represent the first instance in which Laura experiences intimate feelings with herself. Throughout the story, the father is unaware of the relationship that has blossomed between his daughter and the vampire. This demonstrates what actually occurs in real life. Normally, the parent is unaware that their child is discovering this side of them for the first time and usually experience this path on their own.
Victorian Sexualities:
https://www.bl.uk/romantics-and-victorians/articles/victorian-sexualities
Le Fanu's Carmilla:
..\Downloads\Le Fanu - Carmilla.pdf
Adolescent sexuality overview:
http://www.uptodate.com/contents/adolescent-sexuality-beyond-the-basics
Carmilla date published:
Carmilla fan art:
Ad blocker interference detected!
Wikia is a free-to-use site that makes money from advertising. We have a modified experience for viewers using ad blockers

Wikia is not accessible if you've made further modifications. Remove the custom ad blocker rule(s) and the page will load as expected.