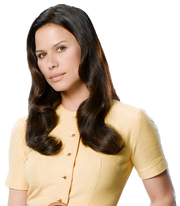 Claire Radcliff is a character in the new ABC series, The Gates, and is played by the actress Rhona Mitra. She's a housewife, mother, and a Vampire. She was turned by her husband, Dylan Radcliff, and is the mother of Emily Radcliff. In order to keep Emily safe, Claire and Dylan moved to The Gates community from New York. She also is good friends with a local witch, Peg Muellar, and seems to become friends with Sarah Monahan - the wife of the new Chief of Police of The Gates.
Claire has a hard time controlling her blood "addiction".
Ad blocker interference detected!
Wikia is a free-to-use site that makes money from advertising. We have a modified experience for viewers using ad blockers

Wikia is not accessible if you've made further modifications. Remove the custom ad blocker rule(s) and the page will load as expected.