== Context on the 1993 Mexican Film Cronos ==
Cronos is a 1993 Mexican film, directed and written by Guillermo del Toro. In the movie, the main character Jesus Gris, finds a bug-like gold mechanism that gives him immortality and a thirst for blood. A rich dying man, Dieter de la Guardia, send his nephew Angel to go after the device Jesus is using, after reading the alchemist who created the mechanism's diary. The plot and turmoil Jesus faces throughout the film are somewhat of a change from that of conventional vampires, specifically because of his relationship with his granddaughter, Aurora. This reinvention of a vampire, is not uncommon, it has happened before in films like Twilight, and yet never fails to leave some wondering where such ideas come from.
Director Guillermo del Toro
Edit
Guillermo del Toro wrote and directed the film Cronos, and it became the beginning of his successful career. The movie won nine academy awards in Mexico, and was nominated for many other awards. Del Toro's main genre revolves around dark fantasy. He also directed the movies The Devil's Backbone (2001), Blade II (2002), Hellboy (2004), and many more [1].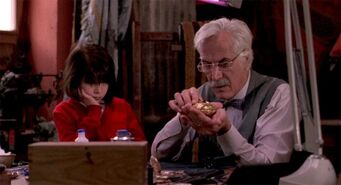 Del Toro's grandmother was a major influence in much of his work, especially Cronos. She was a devout Catholic, and when del Toro (at age 13) decided to be an atheist, he put a strain on their relationship. The decision came after he saw discarded fetuses in the morgue of a hospital [2]. Despite their differences, they continued their relationship and it became the source of the idea of the relationship between Jesus and his granddaughter, Aurora. Even through the unusualness of a horror film such as Cronos and coming from a young director, the movie received a 89% rating on rotten tomatoes, an accomplishment on its own [3]
Citations:
Cronos. Directed by Guillermo del Toro, performances by Federico Luppi and Ron Perlman, Prime Films S.L. (Spain) and October Films (United States), 1993.
Twilight. Directed by Catherine Hardwicke, performances by Kristen Stewart and Robert Pattinson, Summit Entertainment, 2008.
Ad blocker interference detected!
Wikia is a free-to-use site that makes money from advertising. We have a modified experience for viewers using ad blockers

Wikia is not accessible if you've made further modifications. Remove the custom ad blocker rule(s) and the page will load as expected.