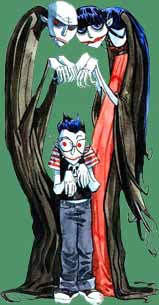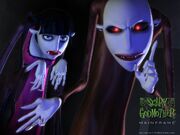 Count Maxwell - A tall, thin and bald Vampire dressed in black. The most famous vampire on the Fright Side, he is the "King of the Night". Usually very old-fashioned, Max feels awkward for being out of touch with the times. He is husband of Ruby and father of Orson.
Ruby - Max's beautiful wife, also a vampire, and the "Queen of the Night". Is more "modern" than her husband, which drives him batty. Has long, black hair and is clad in a satin dress.
Orson - Max & Ruby's preteen son, and, of course, a vampire like his parents. He is the "Prince of the Night". He wears modern goth clothing, thin round glasses and has blue dyed hair. Since Hannah befriended him, Orson was considered by some to be a possible love interest for her (despite his occasionally trying to bite her in the neck). He is not familiar with humans until meeting Hannah, and is interested by her.
The trio appear in the movies: Scary Godmother: Halloween Spooktacular (2003) and Scary Godmother: The Revenge of the Jimmy (2005).