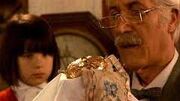 Cronos (1993)Edit
link of Cronos - Official Trailer
Director & Writer : Guillermo Del Toro
This movie is a Mexican horror film acted by Argentinian actor Federico Luppi and American actor Ron Perlman. Cronos is del Toro's first feature film, and it was somewhat unusual, in winning the Best Picture Award at Cannes Film Festival Critics Week.
Main CharactersEdit
Jesus Gris (Federico Luppi)
Gris accidentally discovers information about an alchemist created by the immortal machine 'Cronos' in the 16th century and becomes a little younger by using it. However, he did not know how to use it, and eventually he starts to dislike the sun and begins to covet blood.
Aurora (Tamara Shanath)
Aurora is Gris's granddaughter, who is devoted to helping her grandfather even though he keeps changing and becomes more and more different.
De la Guardia (Claudio Brook)
A wealthy and sick old man who knows the secrets of Cronos. He had been looking for Cronos for a long time, and when he finds out that Gris has the Cronos, he proposes a deal with Gris in exchange for the alchemist's diary, which contains the instructions on how to use Cronos.
Movie SummaryEdit
The alchemist Humberto Oganelli who fled the intellectuals landed at Veracruz Bay in Mexico. In the year 1536, when the alchemist was appointed as a watchmaker by the governor, he decided to make a perfect invention to give the governor eternal life, and named it Cronos after he invented it.
400 years later, in 1937, a collapse of the building ceiling occurred one night. Among the victims, a man, had bizarre skin and skin color like marble, with a chest that was severely wounded, was found. His last words were "Suo Tempore". He was an alchemist. Jesus Gris, who runs the antique awards, finds the Cronos in a plaster cast that was kept in the warehouse. He used Cronos by chance and without realizing how to use the Cronos, and not figuring out the identity of his youth, he becomes increasingly addicted and turns into a vampire.
Gris is chased by the Guardia, who holds the diary of the alchemist that invented Cronos, with the instructions on how to use Cronos. Eventually, Gris kills Guardia, but after he knows the secret of Cronos, he falls into the dilemma of this final choice. The final choice is, will Gris live forever as a vampire with Cronos, or will Gris give up his life as a vampire and die as a human being.
Analysis of theme of Sexuality
Edit
The themes of gender and sexuality are very present in this film. The relationship between Jesús and his wife, Mercedes, is depicted as one wherein he does not have a lot of control. Mercedes is depicted as frigid, and Jesús as emasculated by her in a way. She is not caring or affectionate toward him, or their granddaughter, Aurora, in an outwardly way. Their marriage seems to be sexless, until Jesús uses the scarab device for the first time. The next morning, he shaves his mustache, and comes out to breakfast and surprises his wife. Mercedes declares that he looks much younger, and Jesús says that he feels much younger [3]. This feeling of restored youth and sexuality is caused, of course, by the Cronos device that Jesús uses. We can also see examples of Jesús's newly revived sexual desires when he gets frisky with Mercedes at the New Years Eve party they are at. His immortality has granted him a new energy that seems to be drawing his wife towards him more. This revived sexuality is especially significant given the age of Jesús and Mercedes. It holds more of a significance in that it gives them the chance to relive old parts of their life that they seem to have lost. 
Personal OpinionEdit
It is everyone's wish to keep eternal life. The point of this film is in relation to the mysterious material of alchemy. During the movie, it makes me reminisce about the mysterious worm that appears next to the cogwheel structure of the Cronos. There were few main characters, and the ending of the movie was so obvious. In this movie, the outright vampire scene comes out only once, but it clearly shows the typical vampirism discussed throughout this class.
ReferencesEdit
Ad blocker interference detected!
Wikia is a free-to-use site that makes money from advertising. We have a modified experience for viewers using ad blockers

Wikia is not accessible if you've made further modifications. Remove the custom ad blocker rule(s) and the page will load as expected.