The life and times of a small group of vampires.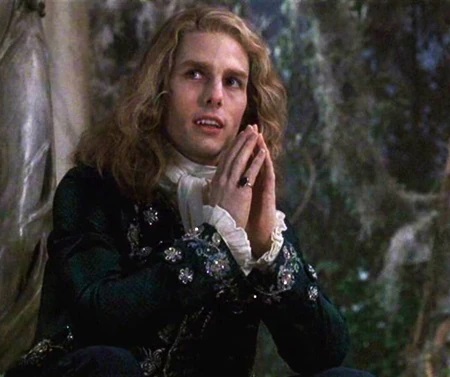 starting with louis in his apartment; the writer boy starts asking about his life and how he became what he has come to be.
Louis starts with his human life and how he longed for something more after the death of his family.
After almost being killed by a pimp lestat saves his life, only to take it himself and give louis an immortal one.
For awhile he learns to feed on rats instead of humans like lestat practices; but after finding claudia he finally gives into the need for more than a rat's life.
After learning that she is slowly dieing he gives lestat his permission to turn her into the curly, fair-haired and blood-thirsty claudia.
The threesome spend years together before claudia longs for an adult figure and humanity. out of rage she tries to kill lestat, only to find that he won't let them go.
The two travel the world in an attemp to flee lestat's grasp and they find a group of vampires who have also learned lestat's ways and are now after the twosome for turning claudia at too young an age.
in the end claudia dies with her new mother and louis is left with only the comfort of the sun's image in movie theaters. but lestat is back.