Brief Summary
Edit
In the Swedish movie, Let the Right One In , the two main characters, Eli and Oskar form a strange and unexpected friendship. This Swedish romantic film tells the story of two outsiders and the way in which their friendship unravels. This storyline follows the book Låt Den Rätte Komma published by John Ajvide Lindqvist in 2004. [1]
Character Summary
Edit
The storyline focuses on Oskar, a young twelve year old boy who is overlooked not only at home, but in school as well. He is constantly bullied by his peers, and does not spend time with any other children. He often finds himself dreaming about being able to plot revenge on the boys that bully him at school. He meets a young girl Eli, outside of his apartment building. At first he finds forming a friendship unnerving, but after talking for a few minutes, the two almost instantly bond over a Rubik's cube. [2]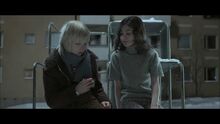 The rubiks cube was not the only thing the two were able to bond over, Eli is also considered an outsider. The community had a negative comparison to Eli and Oskar, and categorized them into a group that was not a part of the community. [3]She does not leave her home except at night, she can not handle the sunlight, and she can not eat real food. Eli is also able to withstand extremely cold temperatures and fly because she is a vampire. [4] Until the end, Oskar is unaware that Eli must drink human blood to survive, and that she is not really as young as she may seem. The movie follows their connection built upon the similarities the two share in the outside world. By the end, Eli was not only able to help Oskar stand up to the bullies who tormented him at school, but she was also there to kill them in the end when the bullying was not stopped. The fact that Eli was a vampire did not scare Oskar, but intrigued him.
Ad blocker interference detected!
Wikia is a free-to-use site that makes money from advertising. We have a modified experience for viewers using ad blockers

Wikia is not accessible if you've made further modifications. Remove the custom ad blocker rule(s) and the page will load as expected.