"Lil' Red Riding Hood" by Sam the Sham & the Pharaohs was a song released on January 1st, 1966 as a single, which ended up selling over a million copies and topped the charts at the time. Its lyrics are a reference to the well-known fairy tale, Little Red Riding Hood, but reimagined as the singer attempting to tell the titular character exactly how attractive she is.
The song begins with a tambourine and simple guitar riff as the singer howls, and then calls out to Little Red Riding Hood, who is apparently in the same woods as him. In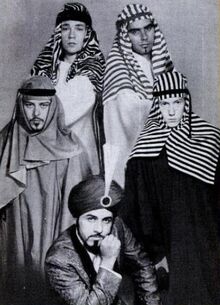 the first verse, he proceeds to tell her that she is looking goiod, and implies that he is the wolf from thje story that the soing is based upon. H goes on to explain that he doesn't think its wise that she is in the woods alone at night and howls to her again.
Then comes the chorus, which is a very direct reference to the story in its entirety. In the story, once Little Red Riding Hood reaches her grandmother';s home, she eventually climbs into bed with her grandmother and asks her about different curious features. It depends on the specific version of the fairy tale, but commonly she will ask about her grandmother's eyes, teeth, or hair, unaware that the grandma is actually the wolf from the woods in disguise. The chorus is the singer assuming the role of Little Red Riding Hood and asking about her grandmother's "big eyes" and "full lips".
The second verse is the wolf trytiung to explain that he thinks he is trustworthy of walking alone with Little Red Riding Hood, followed by a chorus with the same general message.
In conclusion, this song very closely mirrors the original tale of the fairy tale of Little Red Riding Hood, by cleverly putting the singer in the role of the wolf and Little Red Riding Hood at different times throughout the lyrics.
Sources:
https://genius.com/Sam-the-sham-and-the-pharaohs-lil-red-riding-hood-lyrics
https://www.youtube.com/watch?v=xwNP9HOFvwQ
Ad blocker interference detected!
Wikia is a free-to-use site that makes money from advertising. We have a modified experience for viewers using ad blockers

Wikia is not accessible if you've made further modifications. Remove the custom ad blocker rule(s) and the page will load as expected.