Marja Zaleska Tepes
is a Romanian vampire, and the daughter of the infamous Count Vlad, also known as
Dracula
.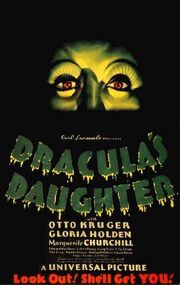 Her first appearance in any media was in the 1936 film Dracula's Daughter, a sequel to the cult-classic Dracula (1931), where she was called Countess Marya Zaleska. Like with most vampires, she is killed by being shot through the heart (by her servant Sandor, after she failed to bring him undeath).
Ad blocker interference detected!
Wikia is a free-to-use site that makes money from advertising. We have a modified experience for viewers using ad blockers

Wikia is not accessible if you've made further modifications. Remove the custom ad blocker rule(s) and the page will load as expected.