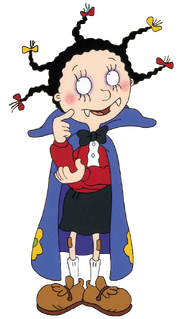 Mona Parker (known simply as Mona or Mona the Vampire) was the titular character and the main protagonist in the 1999 animated tv series of the same name, who is a tomboyishly beautiful 10 year old young girl with a vivid imagination. She believes her hometown is overrun with supernatural monsters and she plans to stop them all and save the town on a daily basis.
Her alter ego, Mona the Vampire has a "vampire sense" which tingles every time there is something foul in the air. Together with her two friends Lily/Princess Giant and Charley/Zapman, they solve some unlikely mysteries. She dislikes cleaning her bedroom and would rather be battling her arch nemesis, Von Kreepsula. Mona has a cat named Fang, who is her trusted sidekick. She has a talent for breaking spells.
Ad blocker interference detected!
Wikia is a free-to-use site that makes money from advertising. We have a modified experience for viewers using ad blockers

Wikia is not accessible if you've made further modifications. Remove the custom ad blocker rule(s) and the page will load as expected.