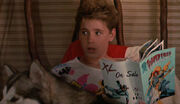 Sam Emerson is the protagonist of the movie The Lost Boys and made a cameo appearance in Lost Boys 2: The Tribe. His evolution from an innocent protagonist to a blood-thirsty vampire strucked the fans of the Lost Boys Series.
Lost Boys
Edit
Sam Emerson moved to Santa Carla, a town filled with vampires. He has been lured to the vampire bussiness by Edgar and Alan Frog. Throughout the movie he tries desperately to find a cure for his brother Michael who has turned into a vampire, and to fight off a horde of vampires targetting his brother.
Lost Boys 2
Edit
In the end credits he appears to Edgar Frog as a vampire. It is still unknown how he got vampirism, but he has turned aggressive and looks kind of happy that he is a vampire. He and Edgar battles in the end and it isn't featured who won.
Lost Boys 3
Edit
He died at the end of his battle with Edgar, only his name appears in the tombstone.