"Carmilla" by Le Fanu has many overarching themes, a central one being Women Loving Women.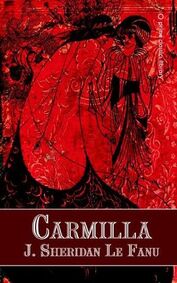 Background
Edit
"Carmilla"[1] written in 1872, was first serialized in the literary magazine The Dark Blue and was later compiled into Le Fanu's short story collection In a Glass Darkly (1872). This tale came even before Dracula by Bram Stoker, and was widely received. It has two main characters, Carmilla, the vampire, and Laura, our protagonist. In the novella, Carmilla comes to befriend Laura, eventually preying upon her multiple times before several people stop her (by killing Carmilla). It is later revealed that Carmilla was the Countess Karnstein—her real name is Mircalla. It is revealed that, through the centuries, whichever name she used, it was always an anagram of Mircalla.  
Lesbian Representation
Edit
Throughout the novella, there are multiple instances of affection between the girls that far surpasses friendship. For example, in Chapter 4, there is a passage that reads "It was like the ardour of a lover . . . with gloating eyes she drew me to her, and her hot lips travelled along my cheek in kisses . . ." (Ch. 4, Pg. 4) In addition to this, all the victims we hear of are female, such as the General's niece, who had been her previous victim. In the age in which this was published, Victorian sexuality [2]was very prudish, with two warring ideas, that of the "Angel of the House" and the "fallen woman" ("Victorian sexuality" by Holly Furneaux), with homosexuality not being widely accepted. Another very telling quote is "You are mine, you shall be mine, and you and I are one for ever." (Ch. 4 Pg. 4) At the time in which this was published—and even now—these words would often be spoken between a man and a woman, not a woman and a woman."Carmilla" was the first instance of a lesbian vampire, and since then has inspired several movies, such as Lesbian Vampire Killers, a 2009 comedy. "Carmilla," since its publication, has become a lesbian vampire icon, with different adaptions adding to the idea of Carmilla, the lesbian vampire.
References
Edit
↑ Le Fanu, J. S. & Costello-Sullivan, K..Carmilla: A Critical Edition. Syracuse: Syracuse University Press, 2013. Project MUSE.
↑ Furneaux, Holly. "Victorian Sexualities." The British Library. The British Library, 28 Mar. 2014. Web. 18 Apr. 2017.
Ad blocker interference detected!
Wikia is a free-to-use site that makes money from advertising. We have a modified experience for viewers using ad blockers

Wikia is not accessible if you've made further modifications. Remove the custom ad blocker rule(s) and the page will load as expected.