Let the Right One In
Edit
Theoretical Context of the Film
Edit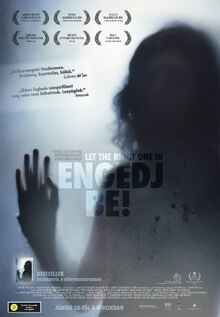 The film Let the Right One In (2008) [Movie] directed by Tomas Alfredson, is based on the best selling novel written by John Ajvide Lindqvist [imdb].
John Ajvide Lindqvist was born in the year 1968, and grew up in Blackeberg, a suburb of Stockholm [Lindqvist]. Let the Right One In, similarly, takes place in the suburb of Blackeberg. The story is set in 1982, and follows the life of twelve year old, Oskar. In 1982, Lindqvist himself was fourteen, which is not too far off from the age of twelve. This raises the question: Is Let the Right One In reminiscent of Lindqvist's own childhood, and the time he spent as an adolescent growing up in Blackeberg? Analysis of Lindqvist's life helps to provide a theoretical context of the film Let the Right One In, based on his novel.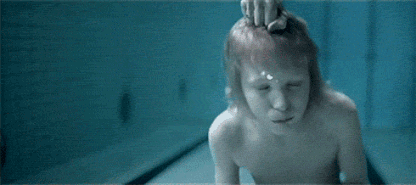 A critical scene in Let the Right One In is closing scene where Oskar is forced to hold his breath for three minutes under water, an action which would have resulted in him drowning, had Eli not stepped in. While it is perhaps the most memorable, this is not the only reference to drowning in the movie. A bully also threatens to drown Oskar earlier in the film, but could not follow through because Oskar hit him in the head with a pole. The presence of drowning in Let the Right One In is significant because when Lindqvist was young, his own father drowned [Wikipedia]. In both scenes, Oskar is able to escape drowning, unlike Lidqvist's father. The death of his father, in this way, was also influential in Lindqvist's other works, such as Handling the Undead and Harbour.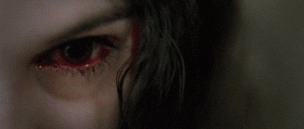 Another interesting piece of information which provides theoretical context for Let the Right One In is the influence that Morrissey (lead singer of The Smiths) had on Lidqvist, who is admittedly a big fan of the singer. The name of the film, "Let the Right One In", was directly derived from Morrissey's song "Let the Right One Slip In" [Wikipedia]. Lyrics of the song include: "I'd say you were within your rights to bite the right one and say, 'what kept you so long?'" and "let the right one in" [lyrics]. Needing to be invited in is a recurring element in many vampire stories. Let the Right One In displays this element of the vampire myth, in the scene between Oskar and Eli where Oskar will not vocally invite Eli in. As a consequence to this, Eli begins to bleed from her eyes, ears, and other places it is not healthy to be bleeding from. Another example of a vampire requiring an invitation into a home can be seen in the "Buffy versus Dracula" episode of "Buffy the Vampire Slayer" [episode]. Buffy's mother unwittingly invites Dracula into their home, allowing him to come and go as he pleases. The reference to biting in this song, along with the idea of vampires needing to be invited in, provides a clear idea of how "Let the Right One Slip In" influenced the creation of Let the Right One In.
Sources:
Edit
Course Material:
Edit
"Buffy versus Dracula" [https://d2l.arizona.edu/d2l/le/content/563364/viewContent/4907530/View]
Let the Right One In [http://www.veoh.com/adultwarning/watch/v197588916zB6HYeP]
External Sources:
Edit
Wikipedia [https://en.wikipedia.org/wiki/John_Ajvide_Lindqvist]
Internet Movie Data Base [http://www.imdb.com/title/tt1139797/]
Lindqvist [http://johnajvide.com/john-ajvide-lindqvist-english-version-coming-soon/]
Lyrics [http://songmeanings.com/songs/view/3530822107858998878/]
"Let the Right One Slip In" [https://www.youtube.com/watch?v=5ah1kucA5rw]
Ad blocker interference detected!
Wikia is a free-to-use site that makes money from advertising. We have a modified experience for viewers using ad blockers

Wikia is not accessible if you've made further modifications. Remove the custom ad blocker rule(s) and the page will load as expected.