Lemora[1]: A Child's Tale of the Supernatural movie is a story about a young girl, Lila Lee, who lives with Reverend and spends time singing in the church. That follows the disappearance of her father who was a gangster. She informed that her father is seriously sick and about to die. She then escapes and ends up in the ends up in the hands of a vampire, Lemora. The efforts of the Reverend to look for her are not successful. Lila tries to escape from Lemora. Lemora manages to siege her, give her clothes and care of her. Lila is surprised to discover that Lemora is a vampire[2]. Lemora succeeds into converting Lila to be a vampire. The Reverend finally finds Lila when she is already a vampire.
Lila is revealed as indiscipline when she escapes from the good care of the Reverend to the care of Lemora, which costs her, where she is converted into a vampire. The Reverend is exposed as a caring individual who takes care of his church members and looks for them whenever they are lost. However, he represents the weak faith in the church when he is also changed into a vampire by Lila. There is the theme of cult in the church. Devil worshipping shows up as a major threat to the church when it takes away innocent believers and changes them into cults. In relation to the history of the church, the movie explains a time when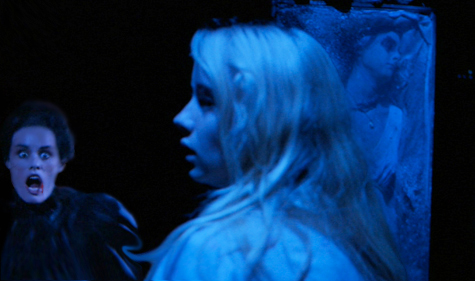 devil worshipping invaded the church. Otherwise, as far as scape-gloating is concerned the indiscipline of 
Lila is to be blamed for opting to escape from the care the Reverend only to run into the 
w
orld of the devil.
Refernces:
Trailer Trash1978, Youtube. YouTube, 17. July .2013. Web. 30. April. 2017 
https://www.youtube.com/watch?v=rmTAhCoH908      
Blog, Horror Movie A Day. 12 March 2012. Web. 30. Apr. 2017
http://horror-movie-a-day.blogspot.com/2012/03/lemora-childs-tale-of-supernatural.html
Ad blocker interference detected!
Wikia is a free-to-use site that makes money from advertising. We have a modified experience for viewers using ad blockers

Wikia is not accessible if you've made further modifications. Remove the custom ad blocker rule(s) and the page will load as expected.