Author 
Josef Nesvadba was a Czech writer that was best known for his science-fiction stories. He was born in Czechoslovakia, and also received a degree in psychiatry. Initially, Nesvadba experimented with theoretical plays and English poetry translation. By the end of 1950, he began writing short stories, which focused on science fiction. His short stories generally revolved around multiple personalities and the weakness in humans. Nesvadba discussed serious themes and problems in society using satire, irony, and dark humor.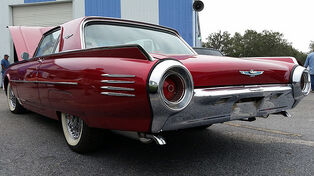 "Vampire Ltd." is a short story written by Josef Nesvadba. Using the combination of science fiction and dark humor, the author tells a story of a man and his strange encounter with an automobile.
Summary 
The short story is told from the perspective of the main character. Through his viewpoint, he recaps his unusual occurrences. The main character was in England for a conference, but had no means of transportation. While at a gas station, he encounters a tall, pale man that offers to take him to his destination. The man was driving a sports model car that was not fueled by regular gasoline. While driving, the car owner suddenly stumbles out of the car and states that he still has business to do, and he will pick up the car the next day. The main character finds himself driving the peculiar car, and picks up a young girl named Susan. Throughout the day, the main character grew very restless, when he wakes, Susan points out that she was unaware of his injury. He looks to find a new sore on the sole of his foot. Unaware of the origin of the injury, he attempts to start the car with an empty shoe, but has no luck. However, when he uses his finger the car started instantly, and leaves another sore. At this point, the protagonist realizes that the car is fueled by human blood. He goes on a journey to find the maker of the automobile, James Stuart, Old Georgetown 26. He meets an elder secretary, and discovers that the automobile's initial owner past away thirty-two years ago, but the car created was highly admired. The main character trades the blood-sucking car for a phone call. He warns the lady that the car is a vampire that will kill her, but realized that people were willing to sacrifice their life for a car that is superior to others. In the end, the main character arrives safely to his conference.
Theme
"Vampire Ltd." Portrays the theme of human weakness using science fiction and dark humor. The story involves a vampire car that uses human blood as fuel. While the main character was not willing to sacrifice his life for the car, he discovered that many people were eager to die in order to be superior to others.
References 
Caffee, N. (2017). Final Unit: Course Recap. Retrieved from  https://d2l.arizona.edu/d2l/le/content/563364/Home
Josef, Nesvadba. "Vampire Ltd." 1964.
Ad blocker interference detected!
Wikia is a free-to-use site that makes money from advertising. We have a modified experience for viewers using ad blockers

Wikia is not accessible if you've made further modifications. Remove the custom ad blocker rule(s) and the page will load as expected.