'Vlad' was a Bulgarian student, who upon his mysterious death in 1923 was rumoured to have returned as a vampire. Many throughout Sofia reported to having seen him roaming the streets and a spate of serial killings between 1923 and 1957 became associated with this ghoulish figure. Little is known about him though this photo was found in his family home.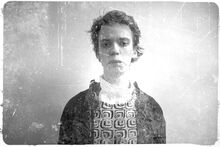 A 
vampire
 is a being from folklore who subsists by feeding on the life essence (generally in the form of blood) of living creatures. Undead beings, vampires often visited loved ones and caused mischief or deaths in the neighbourhoods they inhabited when they were alive. They wore shrouds and were often described as bloated and of ruddy or dark countenance, markedly different from today's gaunt, pale vampire which dates from the early 19th century.
Although vampiric entities have been recorded in most cultures, the term vampire was not popularized in the west until the early 18th century, after an influx of vampire superstition into Western Europe from areas where vampire legends were frequent, such as the Balkans and Eastern Europe,[5] although local variants were also known by different names, such as shtriga in Albania, vrykolakas in Greece and strigoi in Romania. This increased level of vampire superstition in Europe led to what can only be called mass hysteria and in some cases resulted in corpses actually being staked and people being accused of vampirism.
In modern times, however, the vampire is generally held to be a fictitious entity, although belief in similar vampiric creatures such as the chupacabra still persists in some cultures. Early folk belief in vampires has sometimes been ascribed to the ignorance of the body's process of decomposition after death and how people in pre-industrial societies tried to rationalise this, creating the figure of the vampire to explain the mysteries of death. Porphyria was also linked with legends of vampirism in 1985 and received much media exposure, but has since been largely discredited.
Ad blocker interference detected!
Wikia is a free-to-use site that makes money from advertising. We have a modified experience for viewers using ad blockers

Wikia is not accessible if you've made further modifications. Remove the custom ad blocker rule(s) and the page will load as expected.